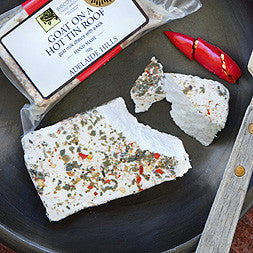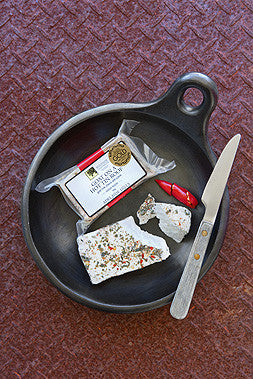 Goat on a Hot Tin Roof Chevre 150g - Woodside Cheese Wrights, Adelaide
The herbs we use on Goat on a Hot Tin Roof are locally grow at Reedy Creek in South Australia and are a combination of Chilli, Saltbush, Native Pepperberry and crushed Tanami Apples.
The Chevre is made from fresh local goat milk sourced from Towerview and Oskjberg goat dairies. Pasteurisation is achieved using batch pasteurisation which is very gentle to the milk.
A must for the cheese board and fabulous with warm crusty bread and a drizzle of olive oil.
Woodside Cheese Wrights has produced a range of high quality award winning cheeses since 1994. Our sophisticated range of cow and goat milk cheese, are made by directly sourcing milk from small local dairy providing excellent control of milk quality.
Woodside is true to the word artisan, crafting all the cheeses by hand. Some of our cheeses are seasonal and are only made when the milk is perfect for each cheese style.