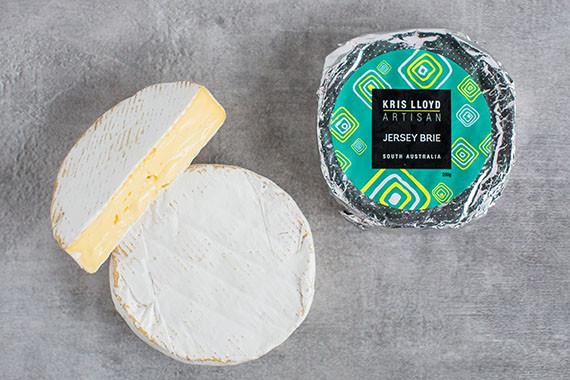 Jersey Brie 200g - Kris Lloyd Artisan
Our Jersey Milk is sourced from a nearby Adelaide Hills town, Langhorne Creek. The herd is made up of pure jersey cows and there are around 60 cows in the herd.

We make our Brie Style cheese completely by hand, cutting the fine curds into large cubes before working them down to smaller pieces by gentle stirring. Once ready we hand ladle into warm hoops.
The cheese is salted the next day and then carefully turned every second day until the cheese makers are happy with the bloomy white mould rind cover. We cave age the cheese for around 10 days before wrapping for sale.
As the protiolitic activity (ripening process) occurs the cheese will begin to breakdown as all good Brie should. It will intensify as the cheese ages. As a cheese maker I aim for this cheese to be sweet at the end of the palate, eat young if you want a milder cheese otherwise let it get funky and experience a truly fabulous representation of a Brie Style cheese.
Some orangey flecks may appear on the white rind as it matures; this is the yeast and cocktail of moulds doing their work, this cheese should have a slight mushroomy aroma typical of the Brie Style.
I love it on a cheese board with our quince paste with a crisp sparkling wine. Make sure a short rest at room temperature is allowed for full flavor and best texture.
Cheers,
Kris Lloyd