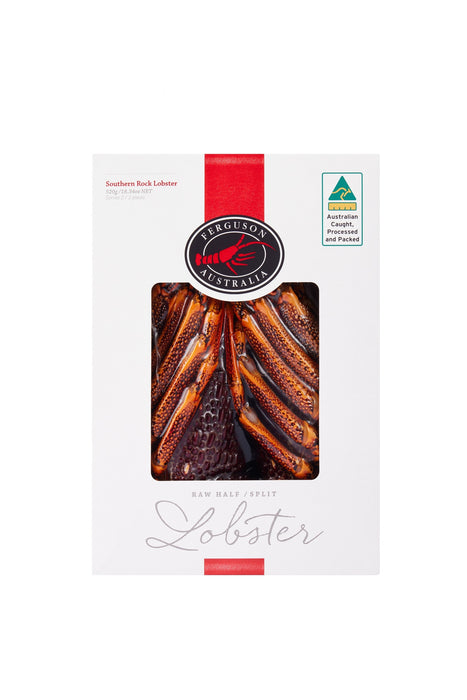 Frozen Half Raw Southern Rock Lobster (Split Twin Pack) 520g - Ferguson Australia
The Southern Rock Lobster (Jasus edwardsii) is wild caught from the Southern Ocean, off the coast of South Australia. The species prefer to live in a variety of reef habitats ranging from shallow rock pools to the Australian Continental Shelf at 275 metres.
The Southern Rock Lobster has a superb taste and texture due to the nutrient-rich, cold, pristine waters of the Southern Ocean. The slow-growing lobster species has a sweet, delicate but firm white flesh, which makes it perfect for sashimi.
The Ferguson family have been involved in the fishing industry on the beautiful South Australian coastline since the 1960s when Andrew's father, Robert Ferguson, gave up a life on the family farm for the adventure of a life fishing one of the greatest fishing grounds in the world. This is the home of the Southern Rock Lobster. Port Macdonnell, Robe, Beachport, Cape Jaffa and Kingston (SE), the towns of the South East as it was known – the Limestone Coast as it is now – are all known for the exceptional quality of their Southern Rock Lobster. Robert originally started fishing out of Cape Jaffa.
Ferguson Australia is 100% owned by the Ferguson family.