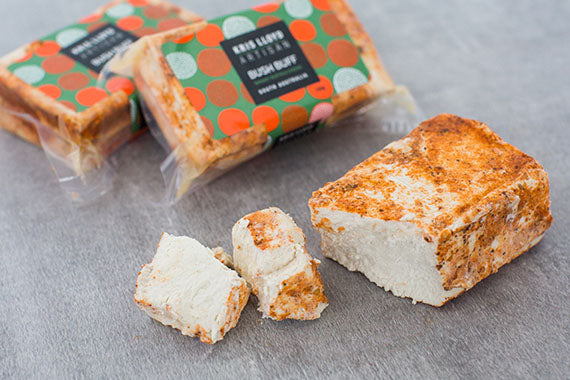 Bush Buff Buffalo Cheese 150g - Kris Lloyd Artisan
The buffalo milk is sourced from South Australia's only buffalo dairy in Mypolonga. All the milk produced by the dairy is exclusive to Kris Lloyd – Artisan. The small herd of around 20 or so Riverine Buffalo means there is excellent control over animal health and the milk quality.
The curd is set overnight to make this fresh cheese in a traditional lactic set, not unlike yoghurt. The curd is drained with quick precision given the milk solids in buffalo milk can be up to 18%, once drained the curd is lightly seasoned with salt and left to age for 10 or so days, after which it is carefully portioned by hand. The love of outback-indigenous ingredients brought the marriage of our buffalo fresh cheese and smokey outback bush tomato together.
Indigenous to South Australian bush tomato is almost like a plump raisin when fresh. These special little fruits are dried and then gently smoked to create a unique flavour that works so well with the rich, creamy, rounded flavour of the buffalo fresh cheese.
It is best served on a cheese board with a crisp white wine or smothered over hot crusty bread and on top of piping hot baked potatoes!