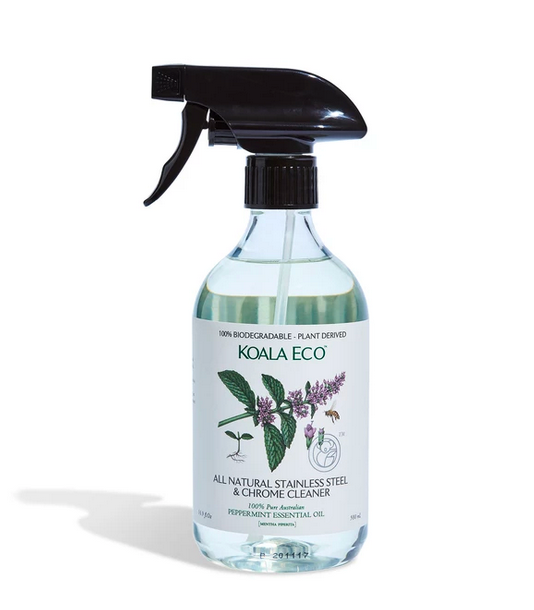 All Natural Stainless Steel & Chrome Cleaner - Koala Eco - Australian Made
Natural Stainless Cleaner - with Australian Peppermint Essential Oil (Mentha Piperita)
KILLS 99.9% OF GERMS
Our NATURAL STAINLESS STEEL AND CHROME CLEANER with AUSTRALIAN Peppermint Essential Oil polishes and protects your stainless steel and chrome-plated surfaces in the kitchen, bath and laundry area.
Our powerful yet biodegradable and eco-friendly plant-based formula cuts through dirt, grime and kills germs and bacteria without the need for harmful chemicals.
Safe, powerful, plant-based made with Australian essential oils. Kind to your family and the environment. Everything we make is: biodegradable, plant based, never tested on animals, grey water and septic safe. We don't use: palm oil, dyes, masking agents, synthetic perfumes, chlorine, bleach, sodium laurel sulphates & phosphates.
Environmentally friendly · Non-toxic · Vegan 
INGREDIENTS:
Plant-Based Ingredients: Mentha piperita (Peppermint essential oil), Aqua (purified water), sugar based biodegradable alcohol, plant-based biodegradable surfactant, plant-based biodegradable solubiliser. 
Slightly different colour to last time? Don't worry. Koala Eco sources fresh essential oils for each batch we make, therefore colours in the same range may vary. This delicious aroma may also bring feelings of joy and happiness.
*patch test if unsure of suitability
REFILLABLE AND RECYCLABLE