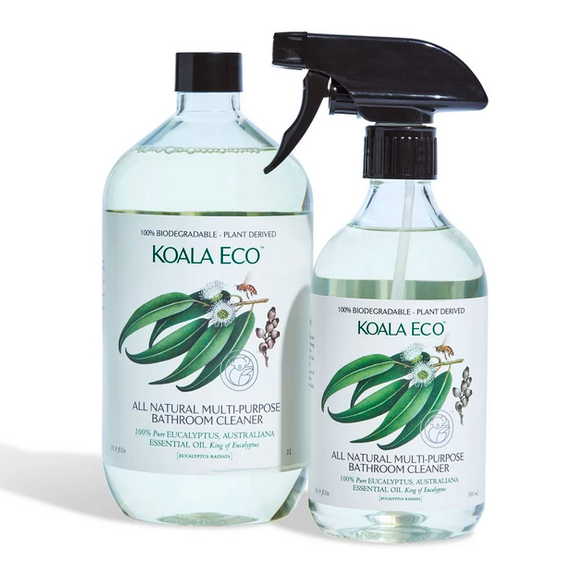 All Natural Multipurpose Bathroom Cleaner - Koala Eco - Australian Made
Natural Multi-Purpose Bathroom Cleaner - with 100% Pure Australian KING OF EUCALYPTUS Essential Oil
KILLS 99.9% OF GERMS
Our EUCALYPTUS, AUSTRALIANA MULTI-PURPOSE BATHROOM cleaner kills bacteria and deodorises anywhere, and is especially effective for bathroom and laundry areas. This powerful, eco-friendly formula cuts through soap scum, dirt and grime, without the need for toxic chemicals.
Let the king of the eucalyptus species revive your spirits as it cleans and protects your home.
Environmentally friendly · Non-toxic · Vegan · Never tested on animals · Palm oil free · Grey water safe · Free of dyes, masking agents, synthetic perfumes, chlorine, bleach, sodium laurel sulphates & phosphates.
INGREDIENTS:
Eucalyptus, Australiana King of Eucalyptus (Eucalyptus radiata) essential oil, Australian filtered water, sugar-based biodegradable alcohol, vinegar, bicarb soda, plant-based biodegradable surfactant (soap), plant-based biodegradable solubiliser
REFILLABLE AND RECYCLABLE