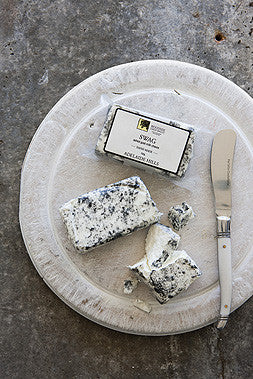 Swag Ashed Chevre 150g - Woodside Cheese Wrights, Adelaide
Ash reduces the acidity on the surface of the cheese offering a complex mouthfill.
Recently winning a gold Medal at The Sydney Specialists Cheesemakers Show in May 2005, judges commented "Woodside swag has the perfect balance of creaminess and acidity. We like its sharpness, this cheese has a surprisingly interesting mouthfill."
Great on a cheeseplate, smeared on lavosh or simply eaten on its own with seasonal fresh fruit and a glass of crisp Chenin Blanc.
Tissue wrapped and Cryovac packed this cheese has a 6 month shelf life if kept in refrigerator unopened, the Swag is a small 150g pack which can be used up quickly once opened.
I named this cheese swag as it resembled a small swag when we first began to develop it.