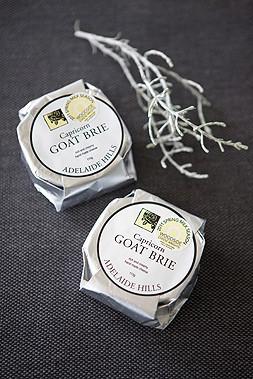 Capricorn Goat Brie Cheese 110g - Woodside Cheese Wrights, Adelaide
The Capricorn is a luscious, surface ripened cheese with a fine texture and subtle flavour. It is our interpretation of a camembert recipe using goats' milk. This is a seasonal product that is not made during winter when goat milk supply is low.
The flavour of Capricorn Cheese is complex but not overpowering with a clean and soft palate structure and delicate finish. It can be eaten from 2 weeks of age when it is still slightly firm and offers a mild finish. At about 4 weeks from the make date it is fully ripe and creamy inside. Capricorn is available in 110g tiny wheels perfect for the cheese plate.
Woodside Cheese Wrights has produced a range of high quality award winning cheeses since 1994. Our sophisticated range of cow and goat milk cheese, are made by directly sourcing milk from small local dairy providing excellent control of milk quality.
Woodside is true to the word artisan, crafting all the cheeses by hand. Some of our cheeses are seasonal and are only made when the milk is perfect for each cheese style.