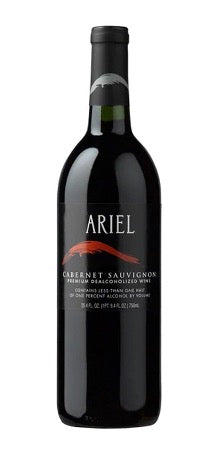 2020 Ariel 0% Alcohol Cabernet Sauvignon 750ml
This bold, medium-bodied red is perfect for enjoying alongside a hearty meal. With aromas of blackcurrant, cherry, blueberry and chocolate, it has soft tannins and a dry finish. 
After undergoing fermentation in stainless steel cooperage, the wine is separated from the skins, and a portion of it is moved into oak for extended aging. Just prior to bottling, the alcohol is gently removed by cold filtration, leaving less than 0.5% alcohol by volume. Our recommendation? Enjoy it with roast beef, lamb or red sauce dishes like wood-fired pizza.
Based in Paso Robles, ARIEL is a sustainable winery that's dedicated to environmentally friendly practices. They've been producing high quality non-alcoholic wines since 1985 and have gained recognition from some of the world's leading wine critics and connoisseurs, winning numerous awards in competitions all over the world in the process.