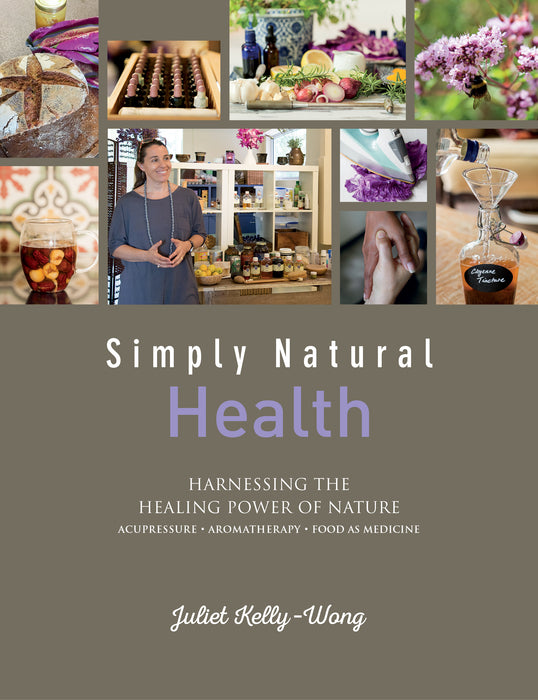 Simply Natural Health - Juliet Kelly-Wong
Whether it's the common cold, allergies or a persistent skin condition, natural therapist Juliet Kelly-Wong opens us to the world of natural alternative treatments that have changed her life, with the ultimate goal to restore the natural balance inside all of us and set us on the path to good health. 

Combining wisdom and remedies from East and West in the forms of acupressure, aromatherapy, foods as medicine and the Bach flower remedies, this book is a comprehensive guide to alternative sources of healing and treatments. These simple and effective methods have helped humankind fight common ailments for centuries.  

Learn:

How overconsumption of antibiotics and drugs affect our bodies
How over-sanitising affects the environment we live in
What foods to include in a healing pantry
How to use essential oils and Bach flower remedies effectively
What to include in an emergency first-aid kit
How to combat over 70 health conditions with specialized treatment plans 

About the Author

Diagnosed with multiple sclerosis (MS) at age 19 and told by doctors that she would be in a wheelchair by 30, Juliet Kelly-Wong was determined not to let her health condition get the better of her. She turned to the alternative side of medicine for answers. Twenty-eight years later and symptom-free, she is now the founder and practicing natural therapist at The Natural Clinic and has spent the last decade treating and teaching others how to restore their health without harmful medications. Juliet's goal is to help others restore balance in their lives and ultimately give them an alternative choice in health.